What are Dental Implants
A dental implant is a small titanium fixture that serves as a replacement for the root portion of a missing natural tooth.
For many people, missing teeth can lead to an unattractive smile, embarrassment from loose dentures, pain, difficulty eating or maybe a less active lifestyle.
The good news is dental function can be restored, esthetics enhanced and everyday life can be a reality for a vast majority of patients using dental implant solutions.
How do Dental Implants Work?
Dental implants are long-term tooth replacements. They typically have three parts;
The implant: The implant is a titanium screw that serves as a root for your new teeth.
The abutment/post: This is a connector that supports the replacement tooth or teeth.
The crown or final tooth/teeth: The crown is the part of the tooth you can see. The crown or replacement teeth look, feel and function like natural teeth.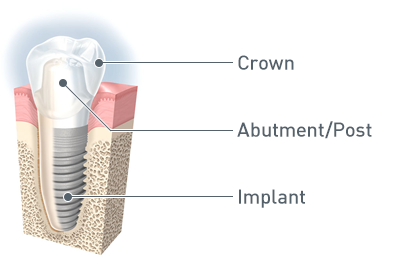 More things you may want to know about dental implants
Claimed to be the most significant dental innovation in the past quarter century, implants offer hope and a new way to get help for those dealing with missing or failing teeth. To learn more about dental implants click here to find a clinic near you to make an appointment for a personal consultation to discuss your treatment options.