State-of-the-art Technology
The Dental Implant Network is at the forefront of cutting-edge dental developments, incorporating the latest digital technology and clinical research into the treatment approach to provide functional, long-lasting and attractive solutions. The clinic uses 3D Cone-beam CT scans of the jaws to assist with diagnosis and treatment planning.
The 3Dscan, which is similar to a panoramic x-ray, takes only a matter of seconds but provides a detailed 3D information on the quality of the bone as well as nerves and other important structures. In many cases 'virtual surgery' can be undertaken on these 3D scans, allowing our surgeons to undertaken the proposed implant placement surgery on the computer before any surgery is undertaken on the patient.
The scan provides both 3D and cross-sectional views that help with surgical planning and also allow better communication between the Dental Implant Network team consisting of the Dentist, Surgeon and Dental technician to assist with optimal patient care. The detailed information obtained from this high-tech imaging allows the treatment team to:
Select the appropriate size & length dental implant for each case
Determine the accurate placement of each dental implant
Thorough evaluation of the bone quality and quantity
Avoid nerves and other dental structures
Help determine the appropriate treatment protocol for each patients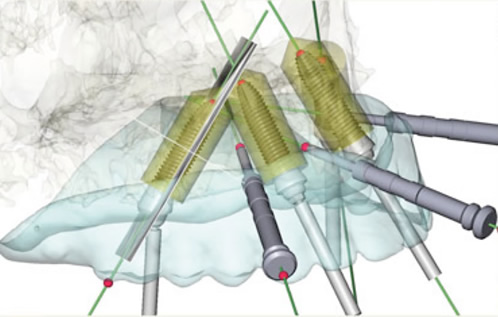 DTX 3D surgical treatment planning software for virtual implant surgery
Smile Design Craftmanship
Dental Implant restorations (Implant crowns, fixed and removable bridges) can be manufactured from a number of different materials such as titanium, porcelain, acrylic, zirconia and are designed using high-tech optical scanners and CAD based design. Custom made implant crowns and bridges are typically milled for high precision fit and finished to a very high standard though our dental laboratory partners here in New Zealand for added quality assurance. The Dental Implant Network uses Dental Technicians that are highly skilled and provide only expert craftsmanship that is necessary to provide you with the best possible replacement teeth.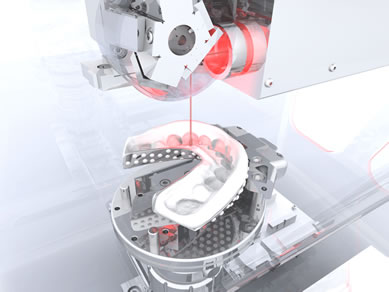 Optical Scanner NobelProcera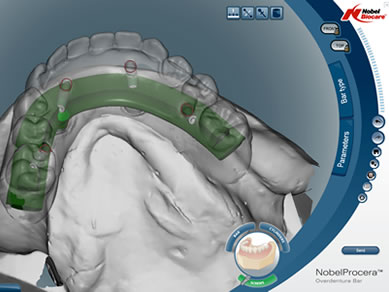 NobelProcea CAD software for prosthetic design